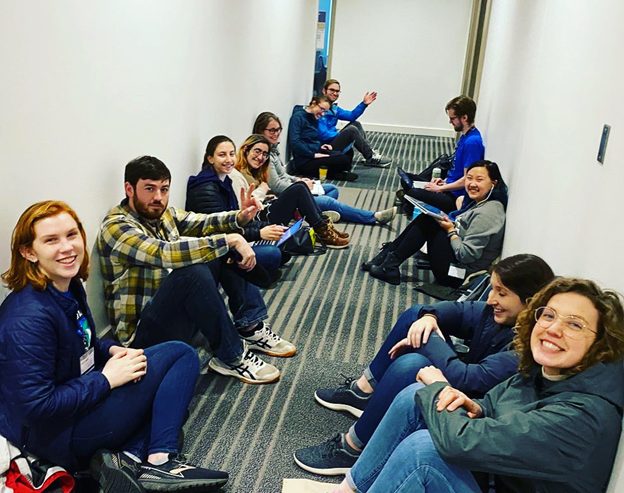 Graduate researchers hold a sit-in outside Management's mediation room to demand a fair economics proposal.
Hello fellow scientists,
Your bargaining team engaged in mediation with the Management team from noon to 11:00pm yesterday. During this time, economic proposals were traded back and forth. While there was some progress toward a deal, we unfortunately did not receive any proposals that completely met the needs of our unit, as identified in a bargaining priorities survey.
As it stood at the end of bargaining today, GRU proposed the following package:
$35,000 stipend for SOM (current: $32,004 post- and $30,480 pre-qual)

$28,500 stipend for SOPH (current: $27,500)

$25,750 stipend for SON (current: $24,816)

3% yearly cost-of-living adjustment for all schools

W-2s

New student health insurance plan with same coverage, a $3,000 out-of-pocket maximum, and the ability to enroll up to 2 dependents for $100/month per dependent (OHSU proposal)

Up to $1,000 moving expense reimbursement for new students

12 weeks paid parental leave

24 days of paid time ofSf per year (2 fewer than what RAs receive)
The threat of a recruitment boycott is powerful. After five months of complete stagnation on economic issues, our recruitment boycott forced a huge movement in management's position on health insurance. Today, Management came with the tools to create an entirely new health insurance plan exclusively for GRs that would match the stated needs of our members. Additionally, Management moved on stipend levels for the SOM above status quo for the first time, though their proposed $33,250 is still below what our unit has identified as an acceptable wage.
While we are close to an overall economic agreement, Management's proposal still falls short of what you have told us to demand.
As your bargaining team, we have heard time and again that these are our membership's top issues. We have also heard frustration with how we announced the boycott, and we will strive to do better. However, the best way we can fight for the changes we all want to see at OHSU is to continue to call for a boycott of all recruitment activities until we have an economic package that protects the needs of our membership. This is your union. We need to hear your questions, comments, and concerns. The comparison of the complete proposals is below.
Please email us at [email protected], or come to a CAT meeting Mondays at 5:00 in BRB 581.

Science and solidarity,
- Graduate Researchers United