Hello fellow scientists!
The bargaining team and other GRU organizers have been receiving a large influx of questions and commentary from you all ever since Management sent out their first round of economics proposals. If you were skeptical when you received an OHSU Now communication from Management, you're not alone. (For context, GRU proposed articles covering economic matters on June 20th, so it took 4 months for them to counter)
You can read a detailed point-by-point analysis of these proposals on our website. The bottom line? The Union is not accepting this first counter-proposal and will continue to push Management to do better.
The Union bargaining team will be presenting counter-proposals to this economic package at the next bargaining session on October 31 and we'd like you to come: 9:00-2:00 in the School of Nursing 122. You may come and go as needed.
So What Happened on October 24?
Here's What The Union Proposed
[3 & 4E] Grievance and Arbitration - This further outlined the process for how violations of the contract are remedied and asserts the power of the union to file grievances.
[5C] Vacation -- The Union proposed a greater number of vacation days than currently offered to GRs. This proposal also asserted that vacation days for each year are available at the beginning of the academic year, rather than needing to be accumulated.
[6C] Sick Leave -- The Union proposed a number of sick leave hours to align with other employees and proposed language around how sick leave should be taken and notifications of mentors.
[7C] Holidays -- Days that GRs will not be required to work. The union proposed that if a GR works hours on a holiday, they gain those hours back through vacation hours.
[36B] GRU Lounge -- The union reproposed designating rooms on both the hill and waterfront for exclusive use by GRs.
Here's What Management Proposed
[13D] Drug Testing -- Management proposed that GRs will be subject to drug testing as outlined with employee policy. If a reference to the policy is included in the contract, GRU can demand to bargain over proposed policy changes.
[22D] Personnel Files -- Management proposed that personnel files, as related to employment, will overlap with academic files, and thus be subject to FERPA, a set of laws protecting students' academic records. GRU's legal counsel is determining to what extent this is true. Furthermore, management proposed that the only time a GR must be notified of additions to their file to acknowledge it's inclusion will be for disciplinary records.
[25B] Materials and Equipment -- Management rejected most of GRU's proposal and only included language about providing OHSU-issued laptops.
[33B] Transportation -- Similar to Materials, Management rejected most of the proposal, except for locking in the price of Tri-Met passes at $50.
Economic Counters & Health Insurance
Management combined individual proposals GRU had submitted into one document for their counter, which included elements pertaining to stipends, yearly stipend increases, tax reporting forms, tuition and fees, and more. Here's a summary of their entire counter.
First, management proposed different stipend levels and different rules regarding stipends depending on the school in which a GR is enrolled. For SOM GRs, management proposed raising all pre-qual GRs to the post-qual stipend, thus making the stipend level $32,004 for every GR in the SOM for the remainder of the academic year. However, they did not propose raising the post-qual stipend. While we think that not offering a raise to the majority of the bargaining unit is unacceptable, what is even more egregious is that management proposed GRs in the SON will only receive the NIH minimum (if they are even offered a stipend) and GRs in the SoPH will have $27,500 as their minimum stipend. However, for SoPH GRs, there is no guarantee that they will even be paid their stipend minimum because they may be offered "partial stipends".
Management proposed a 3% raise in 2020 for only SOM GRs, followed by two years of increases tied to NIH minimum stipend increases. For the SON and SoPH, all stipend increases will be tied to the NIH increase. Tying a stipend increase to the NIH is not the same thing as guaranteed yearly increase. The NIH's budget is subject to the legislators in the federal government and there have been years in the past with no increase of the NIH minimum stipend. GRU will be pushing for guaranteed stipend increases in the contract.
As was noted in the previous special edition of this newsletter, management still refuses to accept contract language reporting our stipends on W-2s and also cannot provide any legitimate restrictions that would prevent them from doing so.
Finally, management also proposed language that would give them the ability to arbitrarily revoke a GRs stipend at the end of every academic year or when your PI loses funding. The consequence of having a stipend removed would also not be subject to any grievance procedure outlined in the contract or current OHSU policy, because no longer having a stipend removes a GR from the bargaining unit. When the GRU bargaining team pressed management asking if this was their intention with this language, they said this: "As we proposed it, there is no remedy or challenge for non-renewal [of stipends]. That is our intention with our proposal." This is unacceptable. The union will continue to push for fair and equal stipends that are given to all GRs while enrolled and performing work for OHSU.
When it comes to health care, we were glad to see that management had accepted the union's proposal to enroll GRs in the standard employee healthcare plan. However, when asked about dependent coverage, they said GRs would have the option to purchase dependent healthcare coverage with no contribution from OHSU to pay for it. In the bargaining session, they also indicated that the current practice of reimbursing SOM GRs for purchasing dependent healthcare coverage would be discontinued. This is a loss of a benefit for current GRs using this option to help pay for dependent health care coverage. It is also a case study in showing how relying on "current policy" leaves GRs vulnerable to the whims of management. Benefits that are not outlined in the contract are subject to being taken away whenever management feels like it, with no path for recourse.
GRU Walks Out of Java with Jacobs

Thank you to the 30 GRU members that came out to the Java with Jacobs event! About a third of the room was #blue4gru, showing our strength and commitment to getting a fair contract. Right before we asked our question, a medical student asked how Dr. Jacobs was going to support the newly unionized house officers (interns, residents and fellows) to further this goal. Dr. Jacobs proposed interest based bargaining (IBB) as a platform for finding common ground.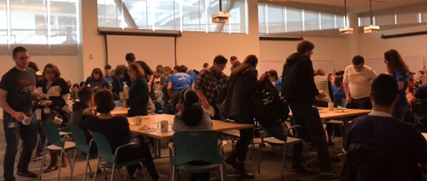 GRU member Tim Bates then stood up and explained how IBB went for GRU, how it wasted a month of time and ultimately led to management proposing exploitative language. Dr. Jacobs seemed out of the loop on these developments. He was shocked that management would propose language that would lead to exploitation of graduate students, and took notes detailing our concerns. After urging Dr. Jacobs to check in with his team, since they represent both him and the university, all of the GRU members walked out.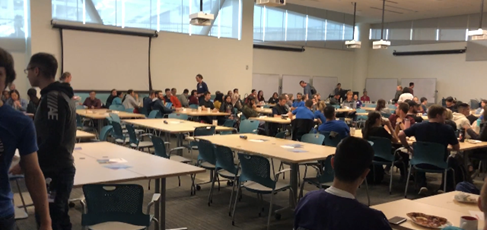 Although it is nice to see that Dr. Jacobs was shocked to hear that management proposed exploitative language, and it was encouraging to hear that he shared our concerns about this development, shock and concern on their own do us no good. This Thursday will see if Dr. Jacob's shock translates to concrete language in the contract that protects GRs from abuse and harassment.
We'll close out today with some quick updates on some of our sibling unions.
Science and Solidarity,
Graduate Researchers United